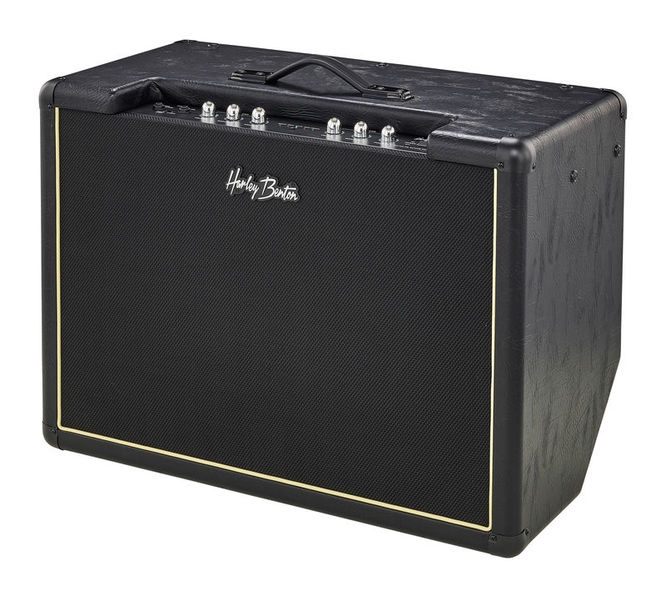 The perfect companion for your digital floorboard, multi-effect or modelling head, the G212A-FR active stereo cab has it all: power, fidelity, low weight and an even lower price tag. The housing features a convenient wedge shape, letting you angle its pristine sound towards you at rehearsals or gigs. Two custom-voiced 12" speakers and dual 1" HF compression drivers reproduce every nuance of those tones you've spent so long crafting in your digital amp platform. And this lion has plenty of roar, too! A wall-shaking 200 Watts RMS of pure, ultra-clean sound are on tap here, with an added XLR output to send your signal direct to a PA or mixer via the built-in XLR outputs. Unleash your ideal tone!
Product Variations
---
Check price at Thomann
In stock
---
FAQ
Got any questions regarding buying and shipping Harley Benton products?
Visit our FAQ
Specifications
full range flat response active open back cabinet for modern digital guitar setup (amp modeling & multi-effect processor)
wedge / tilt-back floor monitor design
custom voiced 2x12" woofer & 2x1" hf compressions driver
2 x 100 watts RMS into 8 ohms
light weight class-d technology
frequency range(-3dB): 90Hz-20kHz
L/R input connectors: jack 6.35mm trx jack & balanced XLR
L/R output connectors: balanced XLR
L/R controls: volume, resonance & presence
mono/stereo switch
mute switch w/led indicator
L/R signal & peal led indicator
dimensions: 706x356x518 mm (w x h x d), weight 22,5 kg
Customer reviews
"It's plenty beefy and breaths like a guitar cab! What a great value, when the next closest competitor to this is well over $1k."

- benjanman / Review by thomann.de
"This thing is rock solid. If you're using a Kemper, Fractal, Helix or any other modeler, you can't beat this."

- M@LO / Review by thomann.de
"I can recommend this speaker. Sounds super, plenty loud, stereo, looks pretty and on top of all that it's more than affordable."

- DaddyO_69 / Review by thomann.de
Harley Benton Frequently Asked Questions
Want to find out more about Harley Benton? Here are the most frequently asked questions.