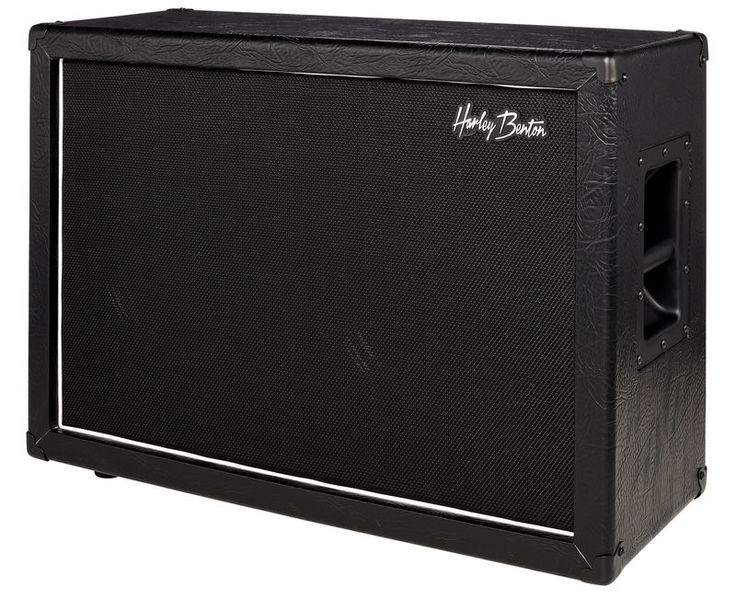 With two 12-inch speakers and up to 200 Watts of power, this cabinet can move a lot of air. The plywood casing is covered with black Tolex, complementing the look of almost any amp. If you like to experiment with sounds and effects, you'll especially like that this cab can be used in both mono and stereo. This cab is easy to carry around with the help of one of your band mates, thanks to the large recessed handles on both sides of the casing. But at 23 kg, you can also lift on your own.
Product Variations
---
Audio Examples
0:00
0:00
---
Check price at Thomann
On request
---
FAQ
Got any questions regarding buying and shipping Harley Benton products?
Visit our FAQ
Specifications
Power rating: 200 Watt RMS
Mono / Stereo switch
Impedance: 8 Ohm mono, 16 Ohm stereo
Equipped with: 2x 12" speakers
Jack
Peak SPL: 123 dB
High-quality poplar plywood housing
2 Large recessed carrying handles
Dimensions (H x W x D): 520 x 742 x 300 mm
Weight: 23 kg
Colour: Black
Suitable protective dust cover: Article number #270251# (not included)
Customer reviews
"Overall, scolding this cabinet would be very silly as it costs so little and is of such surprisingly fine craftsmanship."

- Mofosir / Review by thomann.de
"If you play metal with lots of palm mutes, downtuned chugging rhythms and modern metal tones then this cab will make it sound defined."

- Author unknown / Review by thomann.de
"The cab sounds massive and it's exactly what you would need in a beginning band or for home use."

- Nicolas VSK / Review by thomann.de
Harley Benton Frequently Asked Questions
Want to find out more about Harley Benton? Here are the most frequently asked questions.