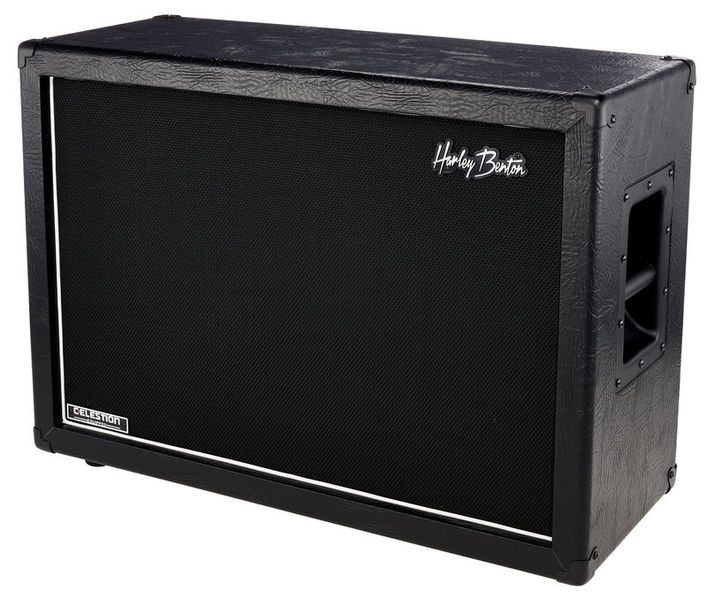 All good things come in pairs. Made of 16 mm-thick plywood, this guitar cabinet is loaded with two 12" Celestion Vintage 30 speakers, making it an ideal partner for guitar players with a keen sense for taste and quality. Pairing an immaculately fitted black Tolex with white edging, this cab exudes plenty of vintage flair. But you'll also love what's inside: two speakers delivering 120 Watts in mono or 2 x 60 watts in stereo mode. This versatile cab is waiting to be put through its paces in almost any genre. Here's the good news for guitar players who travel a lot: large recessed handles on the sides of the casing make it easy to move around.
Product Variations
---
Audio Examples
0:00
0:00
---
Check price at Thomann
In stock
---
FAQ
Got any questions regarding buying and shipping Harley Benton products?
Visit our FAQ
Specifications
Equipped with: 2x 12" Celestion Vintage 30 speakers
Power rating: 120 W at 8 Ohm or 2 x 60 W at 16 Ohm
Inputs: 2x 6.3 mm jack
Mono / stereo switchable
Housing made of 16 mm poplar plywood
Grille with decorative strips
Made with black Tolex
Dimensions (H x W x D): 520 x 742 x 300 mm
Weight: 25 kg
Suitable protective dust cover: Article number #270251# (not included)
Customer reviews
"While I sincerely do not know how many years this cab will last, for the price i'd buy another one without hesitating if I had to."

- shail3n / Review by thomann.de
"If you're reading this review and you're trying to decide on purchasing this cab... My advice is just to go for it."

- Daniel G / Review by thomann.de
"In the end, this is a great cab for very little compared to so called "brand" ones with absolutely no flaws in the worksmanship and gives you tone you just can't improve on ..."

- Mattblues / Review by thomann.de
Harley Benton Frequently Asked Questions
Want to find out more about Harley Benton? Here are the most frequently asked questions.