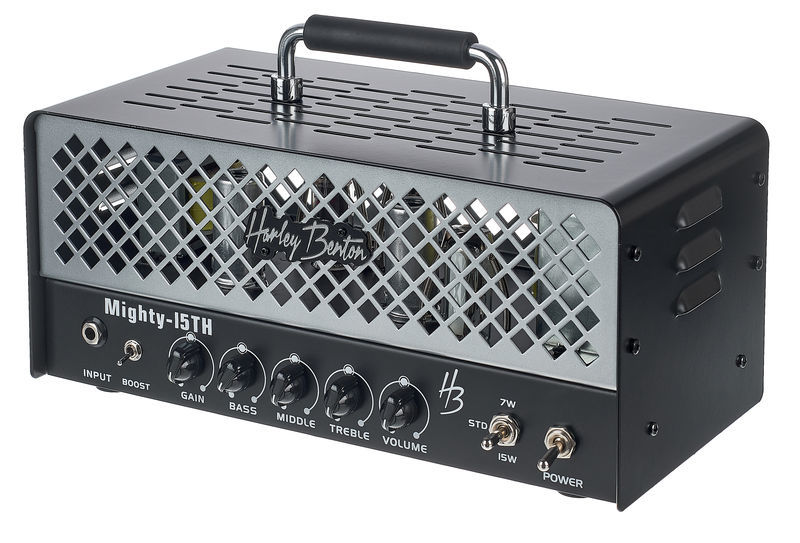 The warmth and character of pure-bred tube amp in a compact chassis – that's our Mighty-15TH amp. Two 12AX7 preamp tubes are paired here with two EL84 power tubes, a classic combination that gives you silky clean tones, adding delicious crunch as you drive the tubes harder to make your guitar sing. Now dime the gain control for a blast of red-blooded tube crunch that'll knock your socks off! 15 Watts give you plenty of power for rehearsal spaces and small-mid stages, while the power attenuator dials back the power to 7 Watts if you need to keep the volume in check. A footswitchable boost and and a built-in FX loop round out the feature set of the Mighty 15TH. Portable, affordable tube sounds on tap – just hook it up to a suitable cab and you're in guitar tone heaven.
Check price at Thomann
In stock
---
FAQ
Got any questions regarding buying and shipping Harley Benton products?
Visit our FAQ
---
Specifications
1 Channel
Power: 15 W with power reduction to 7 W
Class A circuit
Preamp tubes: 2x 12AX7
Power amp tubes: 2x EL84
Indicator tube: 1x 6E2
Controls: Gain, Bass, Mid, Treble, Volume
Boost switch
Effects loop
Speaker outputs 8 & 16 Ohm: 6.3 mm jack
Instrument input: 6.3 mm jack
Robust metal housing
Dimensions (W x H x D): 330 x 162 x 146 mm
Weight: 9.5 kg
Customer reviews
"WOW ... Forget the cost, this is a fantastic little valve amp. Sounds great to my ears. If you factor in the cost, it's kind of unbelievable."

- Shawtarce / Review by thomann.de
"Wowww!!!! Great sound with a G112 Celestion V30 cab!!!"

- Slydee / Review by thomann.de
Harley Benton Frequently Asked Questions
Want to find out more about Harley Benton? Here are the most frequently asked questions.