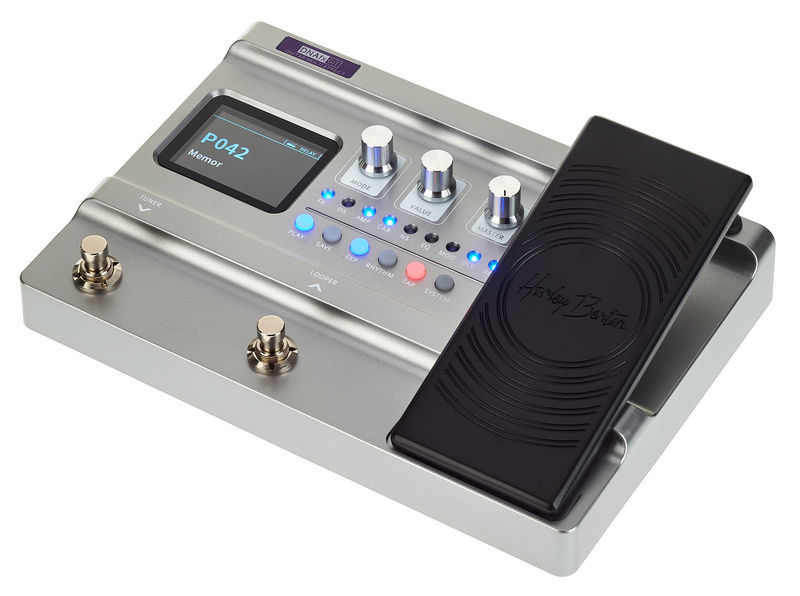 Welcome to your new home for guitar tone. The sound of legendary amps and effects, from vintage valves to the latest hi-tech gear, in a robust, road-ready housing: that's our DNAfx Git advanced amp modelling multi-effect processor. Create your perfect guitar tones selecting modelled gear from a plethora of classic and modern amps, cabs and effects; dive into the onboard drum machine to accompany your riffs; connect to your computer to edit your patches or record your playing… DNAfx is a great-sounding, super-portable guitar rig for gigs, practice or song-writing sessions featuring two quality footswitches and a built-in expression pedal for on-the-fly editing, a big colour LCD display, all the I/O you could ever need. Great tone? Check. Portable? Check. Great price? Check.
Check price at Thomann
In stock
---
FAQ
Got any questions regarding buying and shipping Harley Benton products?
Visit our FAQ
---
Specifications
55 Classic and modern high-quality guitar amp models
Non-linear amp modelling technology with real tube amp sound, feel and response
26 Classic and modern impulse response (IR) speaker simulations with additional support for third-party IR files
151 Different classic and modern effects: Drives, compressors, noise gates, EQs, modulation, wah, pitch, filters, delays, reverbs and more
Up to 9 types of effects can be used at the same time
Large, easy-to-read LED colour display
80 Second phrase looper
Modern drum computer with 40 drum patterns and 10 metronome rhythms
Integrated expression pedal for easy setting of the effect parameters
Up to 200 preset patches can be saved
Tap tempo function
Easy-to-read chromatic LED tuner (435 - 445 Hz)
USB connectivity for editing, direct audio recording (DAW) and software updates on PC/Mac
Programmable outputs for easy integration with any live or studio setup
Headphone output and AUX input for playing and jamming to tracks from external devices
OTG function supports smartphone and tablet software for direct audio/video recording and live streaming
Sampling rate: 44.1 kHz
Sampling resolution: 24-bit
Robust housing made of ABS (top part) and aluminium (bottom)
Dimensions (W x D x H): 230 x 156 x 32.8 mm
Weight: 1 kg
Power supply unit included (9 V DC 300 mA)@+*Connectors:*@+@+
Inputs: 6.3 mm jack
Outputs L/R: 6.3 mm mono jack
AUX in: 3.5 mm stereo jack
Headphone output: 3.5 mm stereo jack
OTG port: Micro USB
USB port: Type B USB@+*Note:* Battery operation is not supported.@+@+*Note:* The editor software for Windows / Mac can be downloaded from the download area at the bottom of this page.@+@+
Harley Benton Frequently Asked Questions
Want to find out more about Harley Benton? Here are the most frequently asked questions.