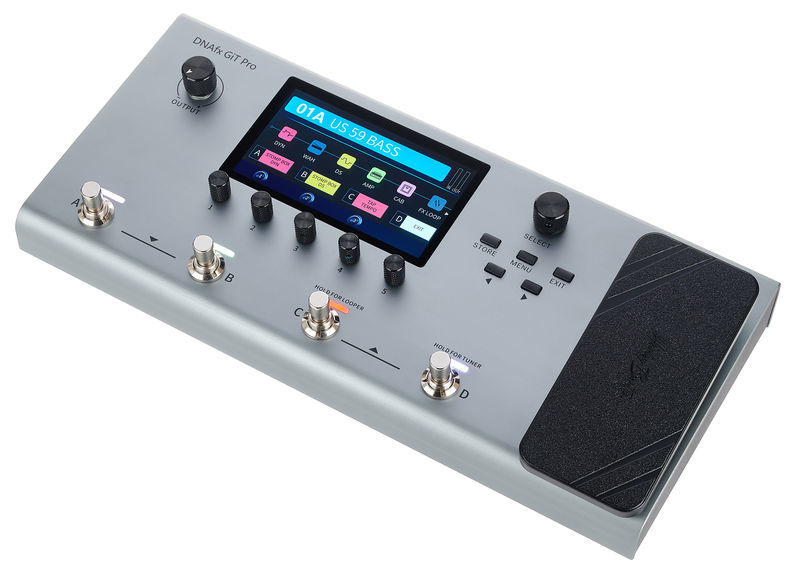 A stack of virtual amps and modelled boutique effects, hyper-accurate cab sims with IR loading, advanced amp control and integration, USB recording, a rich suite of practice features… Our DNAfx GiT Pro floor modeller gives you a complete guitar amp modelling solution. Rugged and reliable, this multi-FX all-rounder supports you in every aspect of your playing, integrating with your guitar amp, giving you complete freedom when routing your FX, offering you creative songwriting and practice tools and, above all, providing you with a swathe of sweet guitar tones that'll become the backbone of your creative output.
Check price at Thomann
In stock
---
FAQ
Got any questions regarding buying and shipping Harley Benton products?
Visit our FAQ
---
Specifications
With advanced amp modelling, multi-effect processor, and IR loader
Wide selection of amplifier simulations
IR speaker simulations for recording and FOH applications
Expression/volume pedal
All effects can be used in stereo and arranged in any desired order
Robust aluminium housing
5" colour display
Channel switching via AMP control
Editor software
USB audio recording for PC and Mac
Power supply included@+@+*Connections:*@+
2 balanced outputs: XLR
2 unbalanced outputs: 6.3 mm jack
MIDI in/out
Headphone output: 3.5 mm mini-jack
Stereo FX loop for external effects: 2 x 6.3 mm jack
AUX input: 3.5 mm mini-jack
External expression pedal connection: 6.3 mm jack@+@+*Includes high-quality digital and analogue effects, such as:*@+
Compressor
EQ
Wah (auto wah or via expression pedal)
Harmoniser
Overdrive
Distortion
Chorus
Flanger
Phaser
Rotary speaker
Tremolo
Reverb with different modes (Room/Plate/Spring/Hall/Church, etc.)
Delay with multiple settings (Ping/Pong, Ducking, Reverse, Tape, Modulation, etc.)
Noise suppressor
Customer reviews
"I love this thing. Build quality is flawless. The bug surprise is the sound. Just superb. This will not just win over beginners."

- zeehatee2 / Review by thomann.de
"A great product, thank you Harley Benton."

- Derek Charles / Review by thomann.de
Harley Benton Frequently Asked Questions
Want to find out more about Harley Benton? Here are the most frequently asked questions.