New
AirBorne Pro 5.8 GHz Instrument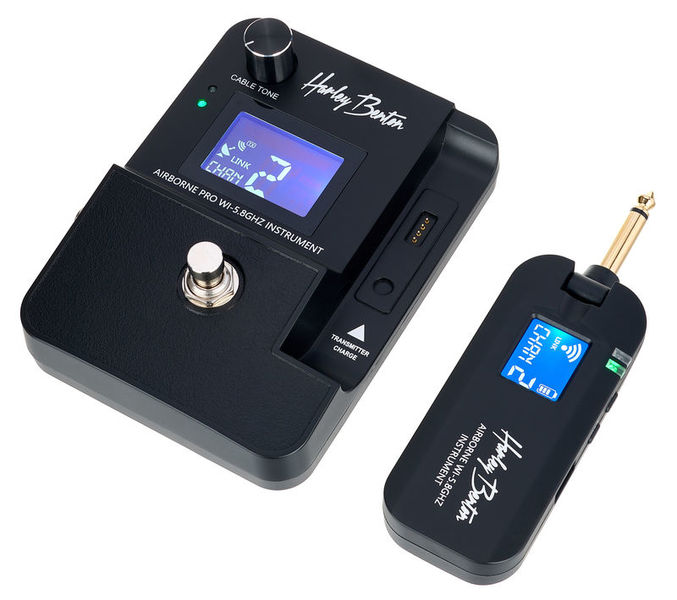 Free yourself from the limitations of physical cabling for your guitar, bass or any other instrument with a 1/4" (6.35 mm) jack! This baby is a 4-channel wireless connector, tuner and mute switch all rolled into one, with clever features and a future-proof, reliable wireless connection over up to 35 metres on the 5.8 GHz band. If you're used to the sound of electrons passing down a cable rather than a wireless connection to your amp, dial in the amount of "cable tone" using the dedicated control knob. You can even power other 9V equipment from the receiver station! Now head over to the online shop and check the price. Yup, we're pretty confident you won't find a more attractive package anywhere.
Check price at Thomann
In stock
---
FAQ
Got any questions regarding buying and shipping Harley Benton products?
Visit our FAQ
Specifications
suitable for all instruments with 6,35mm audio jack
plug-n-play transmitter & receiver
5,8GHz band (5.729~5.820GHz)
24 bit/48KHz
4 channels
transmission range up to 35 meter
latency 5,6ms
battery run time up to 5 hours (depends on operating situation)
recharging time < 3,5 hours
receiver specifications: integrated chromatic tuner w/easy read LCD display, mute switch, cable tone simulator, integrated magnet recharge station for transmitter, 9V DC in & out (to power external 9V items), parring & ID link LCD indictor, battery status LCD indicator, dimension 130x98.9x50.3 mm, weight 263 gram
transmitter specifications:, rotatable 220`angle audio plug, easy read LCD display w/battery status- channel ID-link indicator, parring LCD indicator, ID LCD indicator, power & mute button, USB charging port, integrated rechargeable 3.7V/600mAH Li battery, dimension 43.4x28.7x92 mm, weight 56,4 gram
included: Transmitter x1, Receiver x 1, Manual x 1, USB cable x 1, 9v Power adapter x 1
Harley Benton Frequently Asked Questions
Want to find out more about Harley Benton? Here are the most frequently asked questions.