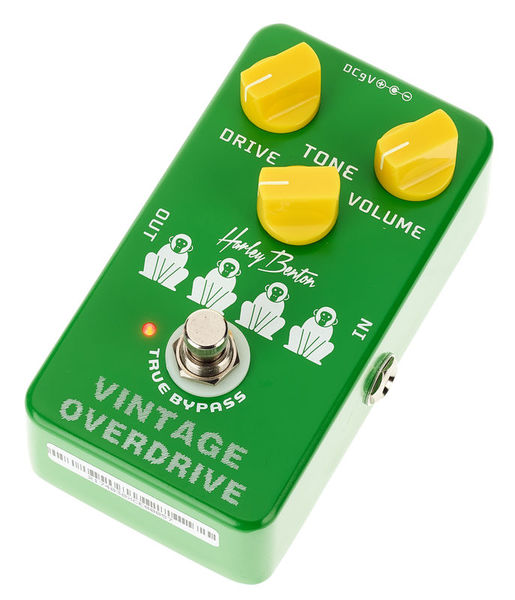 Looking for an authentic-sounding vintage-style distortion pedal to make your tube amp 'sing'? Look no further than our Vintage Overdrive pedal. Its addictive sound will whisk you back to the late 1970s! Activate the footswitch, pluck a string or strum a chord and... Suddenly your rhythm parts and solo licks will sound creamier, yet better defined. As soon as you start tweaking the Drive, Volume and Tone controls, you'll hear how effectively this pedal will get to work on your tone. Easy and quick to dial in, the Vintage Overdrive will let you cut through a busy mix in rehearsal or on stage, even with all your band mates blaring away!
Audio Examples
0:00
0:00
---
Check price at Thomann
In stock
---
FAQ
Got any questions regarding buying and shipping Harley Benton products?
Visit our FAQ
Specifications
Overdrive
Control: Gain, tone, volume
True Bypass
Size (HxWxD): 38 x 64 x 118 mm
Operates with 9V battery Article Nr.. #132579#) or power supply (Article Nr. #409939#) - both not included
Customer reviews
"I've tested this against several other tubescreamers including an original TS9, Maxon OD808, Mooer Green Mile and others, it easily stands its ground."

- Joonas R. / Review by thomann.de
"I use this unit as a clean boost or overdrive. As a clean boost it really boosts the signal emphazising the Mids so you can stand out of the mix without adding too much distortion. As an overdrive it really gives you that warm 'green pedal' sound."

- Cris TNO / Review by thomann.de
"Excellent sound and very sturdy!"

- / Review by thomann.de
Harley Benton Frequently Asked Questions
Want to find out more about Harley Benton? Here are the most frequently asked questions.