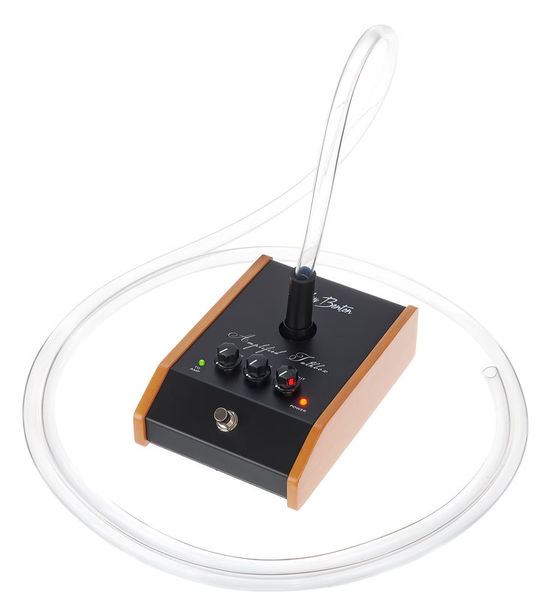 What do Jeff Beck, Peter Frampton, Joe Walsh, Pink Floyd, Slash, and Steely Dan have in common? Simple: They've all enchanted us with their use of a talk box. With our version of this legendary effect, you can sound just like your idols. And setting up your tone couldn't be easier: just use the three controls - Drive, Tone and Output - to dial in your ideal sound. A word of warning, though: This pedal is highly addictive!
Check price at Thomann
In stock
---
FAQ
Got any questions regarding buying and shipping Harley Benton products?
Visit our FAQ
---
Specifications
The sound can be shaped by mouth
Gain, tone, output controls
Jack connections (6.3 mm)
On-off switch with LED display
True bypass
Dimensions: 136 x 62 x 191 mm
Weight: 1.7 kg
The effect is generated by the built-in membrane
Through a hose, the sound can be modulated by the movements of the mouth and taken off via a microphone (not included)
Includes 12V 2A DC power supply (2.1mm, plus internal) and hose
Customer reviews
"It's really fun to experiment with different instruments and sounds, very intuitive but so much harder to pronounce words than I expected."

- Deidins / Review by thomann.de
"What a great pedal. For a long time I wanted talk box and that is the one."

- Fedja / Review by thomann.de
"What a great piece of gear! It's built like a tank, heavy and sturdy. great sound, awesome control deck and the plastic tube is the best so far I've tried."

- bluesboyrules / Review by thomann.de
Harley Benton Frequently Asked Questions
Want to find out more about Harley Benton? Here are the most frequently asked questions.