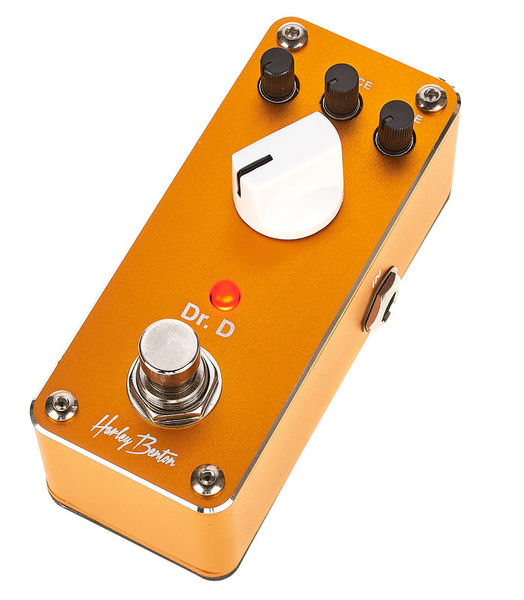 This special little micro-stompbox gives you tones inspired by a certain brand of boutique amplifier that's so special, so expensive and so sought-after that people will happily sell their own body parts to own one. Lively dynamics, rich harmonics and lush saturation are the hallmarks of this sound. The Dr. D gives you enough control to tweak your sound, with a flexible combination of Tone and Voice knobs to dial in creamy overdrive tones in the blink of an eye. Like all our MiniStomp pedals, the Dr. D features a rugged metal case and true bypass circuitry that leaves your tone intact when not engaged.
Check price at Thomann
On request
---
FAQ
Got any questions regarding buying and shipping Harley Benton products?
Visit our FAQ
Specifications
effect pedal for electric guitar, smooth and dynamic overdrive inspired by the legendary Dumble amp tone, true bypass for eliminating signal interference when switched off, solid metal chassis, flexible tone control, voice control, volume output control, gain control, on/off switch with status LED indicator, Jack input & output, power consumption 20mA, power input: 9V by power adaptor, type - center negative (not included), dimensions 92mmx38mmx32mm, weight 133gram
Customer reviews
A really great overdrive, and very versatile too

- thx to the voice control, you can use it on a clean or overdriven amp with equally great tones. / Review by thomann.de
The device offers many good-sounding sounds in the mild to moderate distortion range. Overall, all components make a robust impression.

- telefant / Review by thomann.de
One of my favorite overdrives. It sounds warm and not harsh at all. Better than many more expensive pedals.

- Paco 68 / Review by thomann.de
Harley Benton Frequently Asked Questions
Want to find out more about Harley Benton? Here are the most frequently asked questions.
1. Where can I order Harley Benton products?

All of our products are exclusively sold at Thomann, Europe's largest online retailer for musical instruments with over 20 years of experience. Thomann is located in Germany, Europe but ships worldwide. Every order at Thomann comes with a 30-day money-back guarantee and a 3-year warranty.

2. How much is shipping for one or more instruments?

Shipping costs vary depending on your location. In many cases, Thomann offers flat rates. The flat rate applies to the whole order (up to a certain weight limit), no matter how many products you order. Please visit the international shipping info page to see rates.
For example, as of December 2020, shipping to the US for up to two electric guitars is €60, while shipping costs for a guitar and a case are generally around €80. These are guideline prices only and may vary.

3. What are the delivery times to my location?

Delivery times vary, depending on your location as well as the size of the parcel. Please see the international shipping info page to find out the average delivery time to your location.
For example, the average delivery time to the US is 6-9 working days.

4. I'm ordering from the UK, what has changed since January 1st 2021?

Now that the UK has left the single market and customs union with the EU, we've updated our procedures for orders placed from customers in the UK. Based on the feedback we have received so far, Government Charges will be collected by UPS and they consist of the 20% VAT plus a small amount for the paperwork involved (usually around 2.5%). There is also an additional amount to be paid to UPS for their service, which is a minimum of 11.50 GBP. As not every order has the same customs requirement, for further information we advise that you check the costs and procedures in advance with the courier locally. Please check the Information for non-EU countries.

5. When will my order be shipped?

If your desired products are in stock, most orders are processed the same day and shipped within 24 hours after you've placed it.

6. What happens after my order is shipped? Do I get tracking information?

When your product is shipped, you will receive a confirmation email including tracking information. If you have a Thomann account, all this information is available in your personal customer centre.

7. What happens if I receive a damaged instrument?

All our parcels are insured for loss and damage in transit. If you receive a damaged parcel, please fill out the "return product" form to get a free return label. Take it to the office of the package delivery company stated on the return label and Thomann will replace it as soon as possible.

8. How do refunds work if I'm not satisfied?

As with every order at Thomann you can take advantage of their 30-day money-back guarantee without any questions asked. If you're not satisfied, simply fill out the "return product" form and a return service will be arranged for you.

9. Do I need to worry about CITES?

No. Since we don't use wood that underlies the CITES regulations for any of our products, you don't have to worry about contravening any regulations while importing a Harley Benton instrument into your country.

10. Why is Harley Benton so low priced? Is it a scam?

Of course not. You, as a customer, benefit from the fact that we sell exclusively through Thomann and therefore we don't need to establish and maintain a huge and expensive distribution network. That brings us closer to our goal of crafting great instruments and bringing them to you at the best prices possible.

11. What is the difference between A- and B-stock products?

A "B-Stock" is a product which has been returned by a customer within their 30-Day Money-Back Guarantee or replaced under guarantee and can no longer be sold as "A-Stock". These products are offered at a special, reduced price, are fully functional and come with a full 3 year warranty and 30-Day Money-Back Guarantee. Customers may find that these products show traces of use or scuffing and may not come in their original packaging but will always be checked prior to shipment.

12. Do you have any shops where I can buy Harley Benton products?

Yes, there is a big variety of Harley Benton products at the Thomann shop in Treppendorf, Germany. You can also use Thomann's live video chat to talk to an expert and get personal advice, almost as you would when visiting the shop in person.

13. I'm an influencer and I would like to use Harley Benton products in my videos/stories/posts. Who should I contact?

Our community manager will handle your request. Please use our contact form to let us know your personal information and your ideas on how you would like to present Harley Benton products.

14. I would like to suggest a new Harley Benton model. Where can I write feedback to?

The opinion of our community is important to us. We are always active on our social media platforms and if you leave constructive feedback, we will take care of it. In addition, you can also use our contact form to drop us a note.