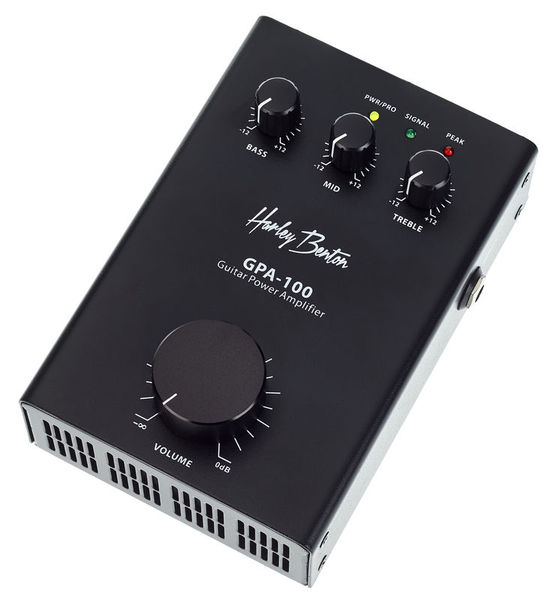 Our super-compact power-amp-in-a-pedal, the GPA-100, is a reliable companion for gigging guitarists and bassists. Packed with lightweight Class D technology delivering 100 Watts at 8 Ohms or 190 Watts at 4 Ohms, this tiny wonder is ready to power your cabinet whenever you need it. Whether it's in the backup role in case your old tube amp packs up mid-gig without warning, or as an additional power amp to drive your wet/dry amp rig, the GPA-100 has you covered. Attenuate the clean, crisp and full sound as needed with the 3-band EQ; the handy Signal and Peak lights help you keep your signal in check.
Check price at Thomann
In stock
---
FAQ
Got any questions regarding buying and shipping Harley Benton products?
Visit our FAQ
Specifications
compact power amplifier in pedal format (preamp required!) for electric guitar
light weight Class-D technology
voiced for direct connection to any preamp
pedal or effect device
100 watts into 8 ohms or 190 watts into 4 ohms
master volume control
bass-mid-treble controls
LED peak indicator
LED signal indicator
LED power-on indicator
input jack (6
35mm)
speaker jack outputs (6
35mm)
AC Mains: 220-240V
dimensions: 162 x 100 x 64 mm
weight: 0
8 kg
Harley Benton Frequently Asked Questions
Want to find out more about Harley Benton? Here are the most frequently asked questions.