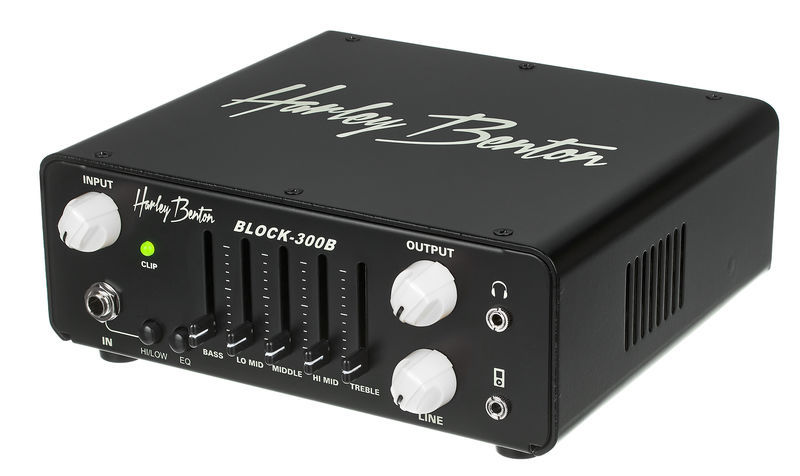 A great-sounding bass amp that fits in your gig bag! Weighing only 1.55 kg, this flyweight packs a hefty punch, with 300 W at 4 Ohms to drive your cab with awesome bass tones. Full and rounded on the low end, transparent and detailed at the top end, the Block-300B gives you smooth and punchy sounds across the whole spectrum. But we've also included a bunch of useful features, too, like a 5-band EQ, a headphone output, Speakon and DI outputs, compatibility with active and passive basses and much more. All squeezed into an exceedingly affordable package that you can take anywhere, as your go-to amp on the road. Or a back-up unit for rehearsals. Or a convenient tool for studio sessions. There's nowhere this amp can't go…
Check price at Thomann
In stock
---
FAQ
Got any questions regarding buying and shipping Harley Benton products?
Visit our FAQ
---
Specifications
Compact and lightweight design
Power: 300 W RMS @ 4 ohms
Class D ICEpower power amp
5-Band equalizer
D.I. balanced output with pre/post & lift/GND switch
Input with high/low switch for active/passive bass
Line input with level control for rehearsals
Headphone output
Speaker Twist connection - Minimum load 4 Ohm
AD DC 110 compatible (100 - 240 V)
Dimensions: 200 x 200 x 80 mm
Weight: 1.55 kg
Suitable gig bag available under Article Nr #194575# (not included)
Harley Benton Frequently Asked Questions
Want to find out more about Harley Benton? Here are the most frequently asked questions.