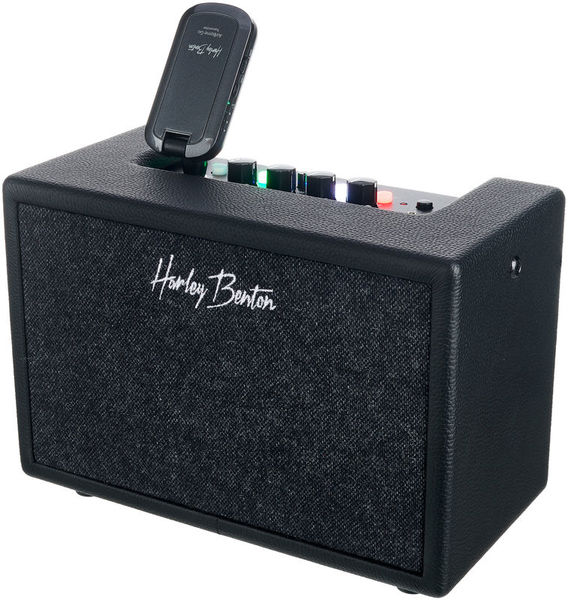 A modern tabletop amplifier bristling with features to take practicing the guitar into the 21st century! Modelling classic amps and boutique effects, our AirBorne Go includes a wireless connector for hassle-free practice sessions. Stream music from your mobile device to play along with, launch the built-in drum machine or metronome to practice your chops. You can even recharge the battery on the wireless plug via the USB connector on the amp! And there's more: the Airborne iOS and Android app lets you tweak your amp, edit sounds, play with drum patterns and a whole lot more. AirBorne Go is a one-stop practice workstation for guitar, with great sounds and an impressive price.
Check price at Thomann
In stock
---
FAQ
Got any questions regarding buying and shipping Harley Benton products?
Visit our FAQ
---
Specifications
ideal for electric guitars
3 watts RMS power
1x3" speakers
wood cabinet
12 digital post effects (phaser-chorus-tremolo-vibe--delay1-delay2-delay3-delay4-room-hall-plate-spring)
3 modern & classic guitar amplifier models (clean-od-dist)
drum machine & metronome with 9 patterns
integrated Harley Benton airborne instrument 2,4ghz wireless plug-n-play transmitter & receiver system (transmitter can recharge with amp's USB port)
bluetooth 4,2 dual mode connectivity
controls: input bluetooth receiver button, gain knob, volume knob, tone knob, delay/reverb knob, channel button, drum knob, drum style button, tap button
connectors: input jack, aux/line-in, headphones, 9V DC jack (Comes with 9V/1A adaptor)
indicators: bluetooth led indicator, power led indicator, receiver channel LED indicator
dimension: l x w x h 220mm x 114mm x 155mm
weight: 1,34 kg
included accessories: manual and usb cable
free Harley Benton airborne go mobile app for android & ios devices (Mighty Amp App)
be aware that some features and functions open only via the Harley Benton airborne go app. Developed in collaboration with Nux.
Harley Benton Frequently Asked Questions
Want to find out more about Harley Benton? Here are the most frequently asked questions.